A few months ago, I found myself at a screening for the breastfeeding documentary The Milky Way. I agreed to go because I was invited and, um, night out. Moms, I think you will feel me here: when the chance for a night out presents itself you take it, even if you'll be surrounded by engorged breasts in 3D.
Most of you know by now that I breastfeed Nolan. You may recall that I was a total and complete shitshow with my nursing display for at least the first 6 weeks of Nolan's life, when I was consistently topless and exposing myself to my neighbors because of my inability to manage both a newborn and my chest at the same time.
But to be fair to my lady bits, generally speaking nursing has been going fine over here. I have not had to struggle with nursing the way many moms do, and I'm grateful for that. And, I mean, I like milk as much as the next guy.
But the women in The Milky Way – they LOVE milk. The level of feeling they have for breastfeeding is usually reserved for religious converts, or possibly Market Basket rallies. One of the women in the documentary felt so passionately about breastfeeding that she actually cried while relaying a story about ANOTHER woman's flat nipples. I shit you not. That, my friends, that is passion.
I myself do not have that kind of passion. I see the benefits of breastfeeding, of course. It's hard to argue with the whole mother nature situation. But I see benefits to a LOT of things you can do for your child, and I don't do all of them. NONE OF US DO. We do the ones that make sense to and for us, and the ones that work for our families.
It seems silly to pick a single cause celeb from the whole expanse of parenting issues and become a vigilante about it, when there are so many ways we impact our children with our decisions. Not just the one way, ya know?
And yet still.
It is with "tremendous enthusiasm" that I discovered that my 35th birthday falls during World Breastfeeding Week. Now, strangely, even as the birthday girl, I don't have a *ton* of pull over at the World Breastfeeding Week (WBW) headquarters. If I did, I'd propose a title change to something a bit catchier, like "All Boobs, All the Time."
Fact: Newborns often take 45+ minutes to nurse. You're told to feed your newborn every 2 hours, timed from the START of the previous nursing session. I'm not great at math, but I'm pretty sure that if I did a quick calculation it would look something like:
Baby + Crying + Engorgement + WTF = All Boobs, All the Time.
And now, in honor of All Boobs, All the Time/World Breastfeeding Week, I bring to you three articles on the topic of nourishing your baby. These are humor pieces covering different aspects of the circus that feeding our children can sometimes become.
You may have seen this first article already because when it got published on HuffPost it broke the internet it was so popular. It's the mother of all breastfeeding articles and one of the funniest things I've ever read. And the best part about the whole thing? The comments on HuffPost! It is UNBELIEVABLE how many people are completely unaware that the article is satire! Interweb users: Bunmi Laditan is PRO BREASTFEEDING! She did not really eat an entire Italian sub under a handmade quilt in 90 degree weather skin-to-skin with a close friend to simulate summer breastfeeding! Although that does remind me that I haven't had an Italian sub in awhile.
How to Breastfeed Appropriately by Bunmi Laditan
So you've decided to breastfeed. Fantastic! Breastfeeding is a wonderful way to nourish your baby while establishing early bonding. Unfortunately, breast milk comes out of breasts so there are a few ground rules that we need to cover.
As you know, (female) modesty is a highly protected value in modern society. Unless you're a magazine cover model or in a music video, exposing your female udder flesh is entirely inappropriate. Science has proven that breasts are basically large vaginas. Only you and your partner should ever see them. Just because your breast-ginas are full of milk, doesn't mean you get to wave them around…(Continue Reading)
8 Hidden Challenges to Breastfeeding by Liz (that's me!), featured on BLUNTmoms
Let's start with this: learning to breastfeed your baby comes about as "naturally" as learning how to twerk, assuming you're not Miley Cyrus, who just took right to it. For the rest of us, there's an unexpected learning curve. Prior to having a baby, you may have had a vague picture in your head of a nursing mother and child: sort of a discreet, subtle, hazy portrait based on a painting. Something like this: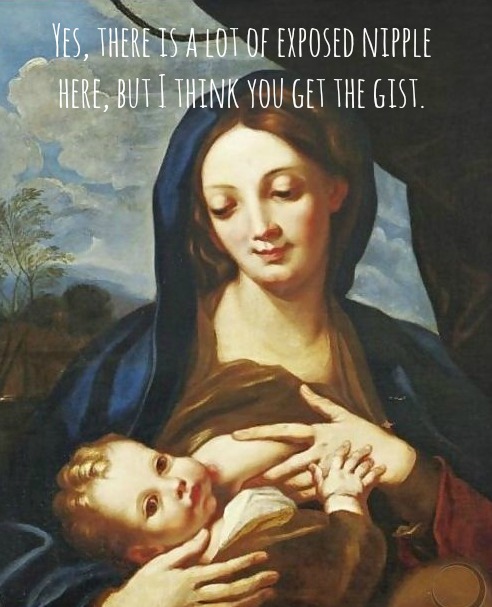 It looked kind of nice. It looked serene. Most importantly, it looked really easy. And then you have a baby. It does not look like that picture. So, why exactly is this very natural thing so complicated for so many of us? Let's take a look at the hidden challenges to breastfeeding. (Continue Reading)
World Breastfeeding Week! (Or How to Not Be an Assclown About Breastfeeding) by Angela at What the Fellers!?!
Like many good things that support moms and dads and babies and education and all sorts of other really great stuff, World Breastfeeding Week has become a battle in the mommy wars.
Now I'm a mostly grown up. I'm pretty hard to offend. I understand that you success is not my failure and that my failure is not your success. BUT, if you're posting a link that celebrates WBW and your comment on that post is "Holla! 2 years and going strong! Not a single drop of the devil-dust crossed MY precious snowflake's lips," I'm going to want to give you a solid punch to the lady-bits chance to redeem yourself. (Continue reading)
*Note: Ladies, lest there be any confusion: Although it is World Breastfeeding Week, you are *technically* supposed to feed your baby during the rest of the year as well.
If you have any further questions regarding feeding your baby, please reference this handy chart from What the Fellers!?!
And if you're actually trying to figure out how to deal with the whole pumping/storing breast milk situation (and you're not here just for jokes) I wrote a post that answers important questions, like how long can breast milk stay out? You know, information that's actually informative, the way some people like their information to be.
---
Need more camaraderie in your day? Follow A Mothership Down on Facebook and Instagram.
Want A Mothership Down delivered to your inbox? SUBSCRIBE HERE.