The Ergo 360 and the Omni 360 are two different models in Ergobaby's soft structured carrier line. So, the obvious question is, how do they compare? Which carrier comes out on top in the Ergo 360 vs. Omni head to head?
I own both of these carriers, but you definitely don't need them both! I just got both to test out for the blog. Otherwise it would be weird to have them both and I'm kind of embarrassed every time I notice them side by side. Because you guys, they are pretty similar.
But! They are also *kind of* different. And Ergo decided to make it more confusing by naming them basically the same thing. The "Ergo 360" and the "Ergo Omni 360"? Come on Ergo! Really?!
To be fair, there are some key differences between the two models. So, I wanted to do a side-by-side comparison so you can decide which is a better fit for you.
If you don't feel like reading the whole breakdown, I'll cut to the chase: my pick is the Ergo Omni 360.
You can read my in-depth Ergobaby Omni 360 review here.
But since you probably came to this page for a comparison, here we go: First up – the Ergobaby 360.
Please note that A Mothership Down is reader-supported, meaning that, at no cost to you, I may earn a commission if you buy after clicking an affiliate link. I'm also a participant in the Amazon Services LLC Associates Program, an affiliate advertising program designed to provide a means for us to earn fees by linking to Amazon.com and affiliated sites.
Ergobaby 360
Why consider the Ergo 360?
The Ergo 360 may be a good choice if you really want a forward- facing option, and you don't want to pay the extra amount it costs for the Omni. The 360 does have many of the same features as the Omni, but at a lower cost.
Durable and well-made. This material is clearly built to last, and there is nothing flimsy about it.
Very comfortable in all positions
The main advantage of the 360 over the Ergo Original is that you're able to use a forward-facing position. This is a big deal to some people!
Personally I've never used the forward-facing position all that much – once my babies are big enough, I much prefer to have them in the back-carry position, which I find way more comfortable and practical. But that's just me! The ability to carry your baby facing forward is the big selling point of this carrier.
Drawbacks of the Ergo 360
Separate infant insert needed in order to use it with a newborn (If you plan to use this carrier with a newborn, I would highly recommend jumping straight to the Omni. The Omni doesn't require an insert for use with newborns, and once you've spent the money to buy the 360 + an insert, you'll be at almost the same price as the Omni)
No storage pocket! Which I think is a rather big issue. I always want a place to toss my keys and a diaper! And a phone. And wipes. And….
The fabric choices are pretty, but there aren't tons of patterns to choose from
The first thing I noticed about the 360 was that the body of the carrier is thicker than I was expecting. A long-time favorite carrier of mine is the Ergo Original/Organic, and that has a very soft and cozy feel to it. So I was surprised at how much stiffer the fabric is on the 360.
It turns out that with the 360, the fabric needs to be stiffer/thicker in order to accommodate all of the various carrying positions it offers. This is just something to be aware of so you're not surprised.
Overall, I think the Ergo 360 is a really well-built carrier, and I enjoy using it. However, due to the few limitations that I mentioned it's not my top choice from the Ergo line.
So let's go over some of the pros and cons of the Ergobaby's premium baby carrier – the Omni 360.
Ergobaby Omni 360
Why consider the Omni 360?
The Omni 360 may be a good choice if you plan to use the carrier right from the newborn stage, and if you'd like to have a forward- facing option as your child gets bigger.
Great ergonomics in every carry position, which is something all Ergo carriers are known for
Very well-built and durable
Includes a good-sized detachable pocket (which you can see in the photo – it attaches in the front, under the baby's bum)
Extremely comfortable in all carrying positions, with good lumbar support
Waist strap is a nice size and doesn't put extra pressure on your abdomen
Can be used from birth without an infant insert
The Omni 360 has a lot going for it! It's extremely versatile and can be used for newborns without the need to purchase an additional infant insert (if you do want a softer carrier for those newborn days, here are my recommendations for the best baby carriers for newborns).
The forward-facing option is appealing to many parents, and Ergobaby is known for providing proper ergonomic support for your baby.
The Omni allows for the straps to criss-cross in the back, which many people (including me!) find to be comfortable. Plus, this carrier comes with a large, detachable storage pocket. The Omni 360 is Ergobaby's top of the line model (with a somewhat higher price-tag to match).
Drawbacks of the Omni 360
The body of the Omni 360 is thicker and stiffer compared to some other soft structured carriers on the market. However, I will say that this also translates to the fabric being very durable.
Although the 360 has a pouch, it's a detachable pouch which I don't think is as nice as having a built-in pouch.
Like other Ergos, the fabric selection is nice but somewhat limited. There are pretty colors to choose from, but if you're wanting a really fancy pattern you might not get what you're hoping for.
Both the 360 and the Omni 360 have the same issue with the fabric feeling stiffer as compared to Ergo's Original carrier. It's just a trade-off you have to think about – if you want a carrier that you can use in all positions, the fabric will be a little less soft and cozy.
All of Ergo's carriers are so well-built that I wouldn't hesitate to recommend any of them. This is an excellent, high quality product, and in all the years that I've used Ergos, I've never had any issues.
| | |
| --- | --- |
| | |
| | |
| | Large detachable storage pocket included |
| 12-33 lbs. / 7-12 lbs. with infant insert (sold separately) | 7-45 lbs. (no infant insert needed) |
| Lumbar support waistband (older version has wide velcro waistband with no buckle) | |
| No option to criss cross shoulder straps in back | Option to criss cross shoulder straps in back |
| | |
Your final choice will come down to what's most important to you. But if you're choosing between the Ergo 360 and the Omni 360 – my vote would definitely be the Omni 360. And if you're planning to use the carrier from birth, this is a no-brainer. The Omni 360 is the way to go.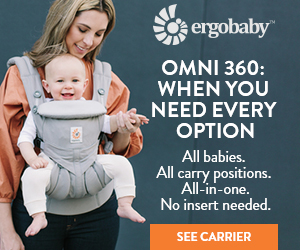 You might also be interested in this head-to-head comparison between the LILLEbaby Complete and the Ergo 360.
And for a review of the best baby carriers of the year, check out my top picks for the Best Baby Carriers on the market today!
---
Need more camaraderie in your day? Follow A Mothership Down on Facebook and Instagram.
Want A Mothership Down delivered to your inbox? SUBSCRIBE HERE.